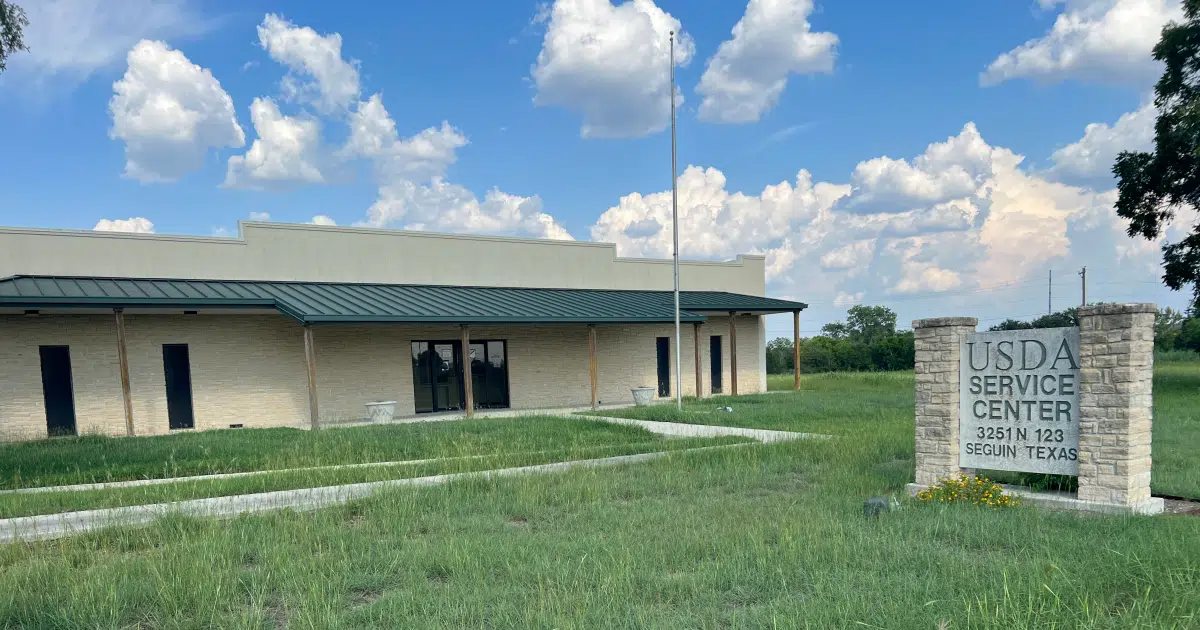 Former USDA building to become Guadalupe County's future office of elections
(Seguin) – The Guadalupe County Elections Office is getting a new home. The purchase of the land and building of the former USDA building on State Highway 123 was recently approved by members of the Guadalupe County Commissioners Court. The building is located at 3251 State Highway North 123.
Drew Engelke, Guadalupe County Commissioner Pct. 2, is the one who approached the court with the idea. Engelke says the $2.15 million purchase is a significant investment for the county.
"As we all know, the population – things are blowing up a bit in the county, and we can consider our citizen services important, and I felt that was a good avenue for the office of elections going forward. . The current location is very limited in their space. They passed it as we did in other departments, but parking was an issue. So looking at this facility that many of us know as the former USDA facility located just north of Interstate 10 on Hwy 123 at the corner of Strempel Road. It's just over three acres of land, so there's room to grow. The facility itself is approximately 7,800 square feet with probably triple the parking lot, the amount of space we have. It's quite unique in that it will be a little more centralized for citizens to access from I-10 and State Highway 123 and also provides voters with a better way to do what they need to. do in reference to the long-term goals that we have for the county," Engelke said.
Engelke says that with the elections office moving to this facility, it helps provide additional headroom for other growing departments.
"It affects other departments in the county as well, so it's almost a 3 to 1, so with the election and then the move to this facility – as part of the budget, we have already budgeted for some renovation expenses at the future – thinking about the future that we are in and then when the elections leave the current facility then purchases will go to that facilityty – minor renovations probably on this facility, then maintenance of which they currently exist, sharing office space with purchases, will then have their own warehouse and office space. So it affects not only the upcoming elections — for voters in the county — but also two other departments," Engelke said.
Guadalupe County Judge Kyle Kutscher said that although the current election office is located a few blocks from the Guadalupe County Courthouse, he thinks this purchase is a very smart and responsible decision.
"Many years ago the county had the opportunity to build a facility that included our own 4H Agri-life office that the USDA was to lease. It didn't work out at the time due to a number of different funding and timing mechanisms and just different agreements, but it's interesting to see how things come full circle where we now have the opportunity to to purchase this property for long term use and ownership by the county. I wish it had been done differently 20 or 30 years ago, but it wasn't. We'll try to look at these things and learn from them as we go along, but the big bright spot today, hopefully with court approval, is that we have something thing for, I would say, about $3 million after the purchase and renovation, which would probably cost us $4 or $4.5 million to try to recreate if we could do the same," Kutscher said.
Kutscher says there are many benefits to purchasing this building. He says there are benefits for Guadalupe County taxpayers and voters.
"Taxpayer savings, you have increased traffic with our own election office as well as additional transparency and security requirements at election offices that reside in every county in the state of Texas. With this property, you're essentially doubling the square footage of what elections have today, and as the commissioner said, you're making it easier for citizens to go to the elections office to make business not only during elections.me but at voter registration, at key trainings with volunteers at a number of events that may be happening – to have the space there, to have the flexibility of an expansion there future, to have a potential sewer close to this project in the future that allows for other connectivities, that's really a win-win for the county in my opinion. I want to thank not just Commissioner Engelke, but the entire court for being proactive in finding properties like this that benefit the county in the long run and will ultimately save money on the road by not having to recreate something like this for a much higher price," Kutscher said.
The USDA building has been vacant since the operation moved to a new building of its own at 999 Fleming Drive near Texas Lutheran University.