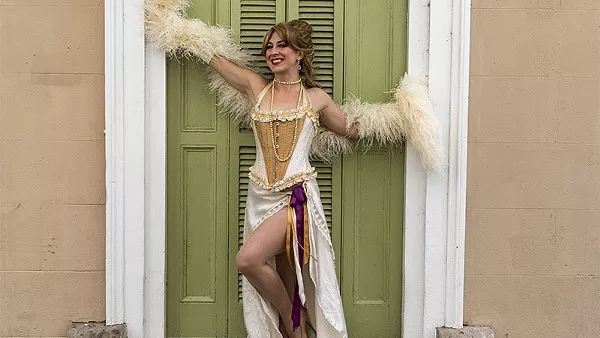 Hurricane Ida benefit show flies around Saint-Louis for Friday night party
[ad_1]
Before she moved to New Orleans in 2018, you could hardly swing an acorn around St. Louis without stumbling upon burlesque maven Lola Van Ella. But late last month, as Hurricane Ida hit the Big Easy, Van Ella piled her pets, partner and belongings in her car and headed north.
"We knew we had to get the hell out of it," she said in an interview. "There was really no question of staying or going. We knew we had to go, and we were really lucky and privileged to be able to leave."
Indeed, while Van Ella spent the last week or so at his childhood home with his parents in St. Louis, his fellow artists still in New Orleans suffered without air conditioning due to power outages throughout the city. , as well as a largely non-functional sewer. system – not to mention, of course, a closure of city venues and the burlesque scene.
But in St. Louis, where Van Ella spent years performing and teaching burlesque, the scene opened its arms to storm-shaken refugees. Next Friday, Van Ella herself is putting on what she promises to be a "massive all night show" – with all proceeds going to New Orleans artists and direct aid groups who provide essential support. to the inhabitants of the city in the process of recovery.
The idea of ​​a telethon-style benefit show, dubbed the "Big Easy Tease-a-thon", went from concept to reality in a matter of days.
"This community is so badass that it has built up very quickly," said Val Ella. "A bunch of people have volunteered to be a part of it, either performing, or working behind the scenes, or doing stuff before the show. It turns into a pretty huge event, which is pretty exciting. "
The one-night event will open at 7 p.m. in Soulard's Crazy art gallery (2727 South 12th Street; 314-771-8230). Then, after a cocktail party and raffle, the show itself begins at 8 a.m.
"In our time, when everything is terrible and there is so much that is overwhelming, it's so easy to forget what binds us together," notes Van Ella. "This is really what this show is like: people come together and lift everyone up. And it is really heartwarming to be back in St. Louis and to see that happen."
The Big Easy Tease-a-thon starts Friday at 8 p.m. at the Mad Art Gallery located at 2727 South 12th Street in St. Louis. Tickets start at $ 25, with VIP seating available at $ 40. For more ticketing information, visit the show's Eventbrite page. For updates on lineup and streaming options, keep an eye out for the show's event page on Facebook.


Follow Danny Wicentowski on Twitter at @D_Towski. Email the author at [email protected]

Sign up for our weekly newsletters to get the latest news, things to do and places to eat straight to your inbox.
Follow us on Facebook, Twitter and Instagram.

[ad_2]