Opportunity created for Bangladesh to get extended business benefits after graduation
On Saturday, Chief Commerce Secretary Tapan Kanti Ghosh was briefing the media at his secretariat office in Dhaka. Picture: star
">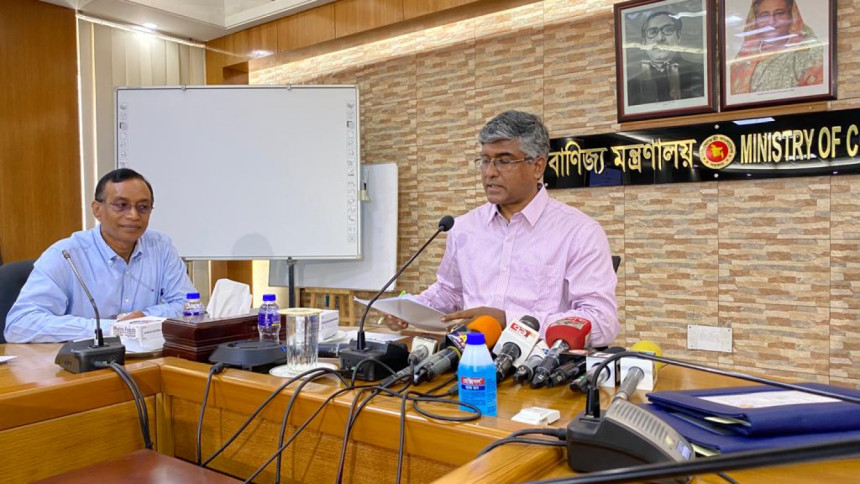 On Saturday, Chief Commerce Secretary Tapan Kanti Ghosh was briefing the media at his secretariat office in Dhaka. Picture: star
An opportunity has been created for Bangladesh to secure an extension of trade benefits granted to least-developed countries (LDCs) after the country's graduation to developing country status in 2026, the Principal Secretary for Commerce said today, Tapan Kanti Ghosh.
He made the remarks during a press conference at his secretariat in Dhaka.
For all the latest news, follow the Daily Star's Google News channel.
The Ministry of Commerce organized the briefing to share the results of the recently concluded conference of the world trade body in Geneva.
In the absence of Commerce Minister Tipu Munshi, who was infected with Covid-19 for the second time, Ghosh briefed reporters.
Bangladesh, along with other LDCs, has been pushing for two years to secure an extension of trade benefits for six or nine years for exiting LDCs.
Bangladesh and other exiting LDCs may not have received a clear extension of the current duty-free trade advantage at the conference, but their demand was acknowledged in the WTO statement.
The statement recognized the particular challenges of graduation, including the loss of international trade-related support measures as they graduate from the LDC category.
"We recognize the role that certain WTO measures can play in facilitating a smooth and sustainable transition for these members after graduation from LDC status," the statement reads.
As a result, Bangladesh's ability to enjoy LDC-related trade benefits even after graduation has improved.
"Further negotiations are needed to secure the extension of business benefits after graduation," Ghosh said today.
The WTO statement did not specify for how long the benefit would be granted.
A decision on the extension of trade benefits for outgoing LDCs could be taken at the next ministerial conference to be held in December next year.