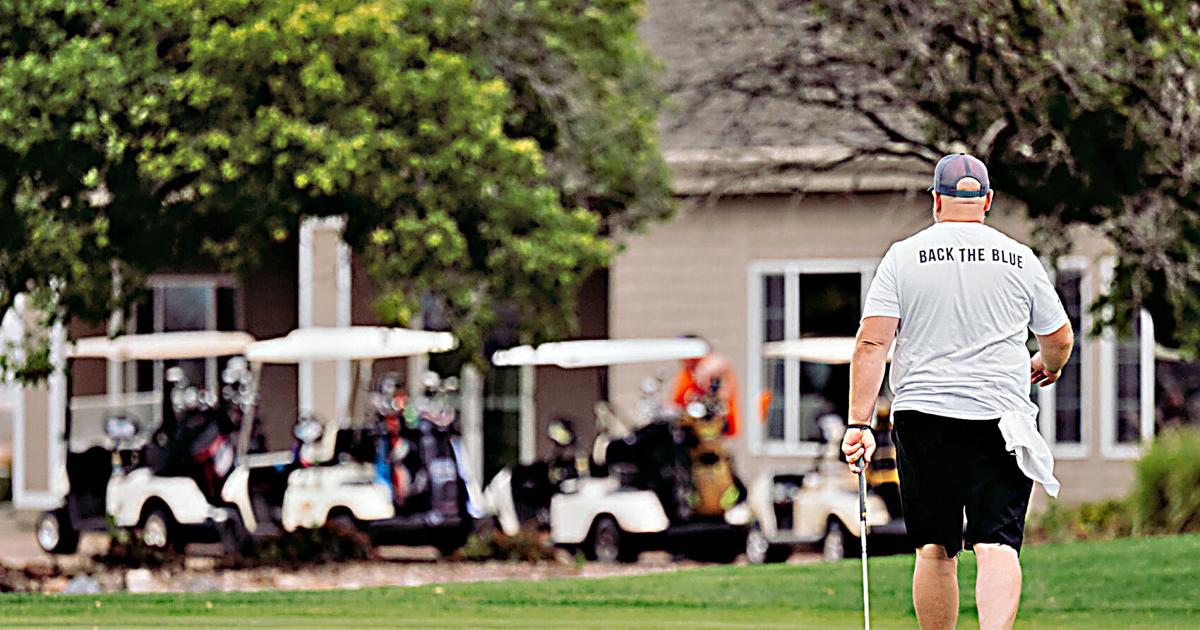 Putting the fun into fundraising | Discover
Golf tournaments are a great way to benefit a good cause
Want to raise money for a good cause?
According to Brian Mohr, Director of Golf at Spencer Municipal Golf Course, a fundraising golf tournament might be just the thing for your cause and your community.
"Golf is a great way to fundraise. Events like this are always very crowded," Mohr said. "People appreciate that because you know you're going to spend like five hours with your friends having a good time. We seem to add a new one every year.
A good example is one of the most recent events on the Spencer Municipal Golf Course calendar. Spencer's Servpro decided to do something to benefit first responders in the area.
"I guess Servpro had done it nationally before, but they kicked off the event here," Mohr said. "The way it worked was they offered sponsorship opportunities to their vendors to help offset cart fees and game fees for first responders who wanted to sign up.
"They ended up having it where the first responders played for free," he said. Then there were different flag donations and prizes and stuff like that.
"Last year was actually a bad day because it rained, but we got it and they did well and everyone still had a good time," he said.
While this particular tournament has benefited first responders, the course will work with anyone who has a cause and wants to start an event.
"The way it usually works is someone has an idea for a fundraiser and they contact me and I can share whatever information I have with them," Mohr said. "I kind of give them an idea of ​​what has worked well in the past and what hasn't necessarily worked as well. Last year we probably had about four events similar to the first responder event.
Spencer Municipal Golf Course develops bids for such events, with green fees and cart fees pro-rated based on the number of attendees the event might attract.
"We charge a certain amount, but these are reduced rates. If you can get about 100 people to attend, the rates end up being very low," Mohr said. "Most of them involve some kind of sponsors. There may be prizes or raffles. Some do and some don't. Once the group decides to hold the event, we go through go over the setup with them and after that it's up to them to gather sponsors and do whatever else they want to do. I don't have much to do with any of that. It's none of my business to know how much they raise, but it's kind of fun to hear about it and know that they've done a lot for a good cause.
Mohr said the Spencer Course's 18-hole layout is large enough to accommodate a large fundraiser and the golf course is still open to regular customers on the same day.
"Depending on the size of the group, we can normally open it or reopen it quickly," he said. "We had quite a large group. I guess we had up to about 180 people for a fundraiser.
Mohr said it's fun to help out with fundraising tournaments. He mentioned the Jasen Petersen Memorial Tournament, which started last year and raises scholarship funds for seniors at Spencer High School. He also highlighted the Special Olympics tournament and the one hosted by the Spencer Jaycees.
"The Special Olympics has been going on for 13 or 14 years and involves many Special Olympics athletes in the region. The way we work is a volunteer pair with one of the Special Olympics athletes in a two-person team. We then have lunch and an awards ceremony. It's a lot of fun," he said. "The Jaycees have one they call their triathlon. They play nine holes of golf, then they play cornhole, then they play darts. The score of these three people added together determines the winner and the proceeds go to all the different causes they support.
All the time and preparation that goes into it pays off when the organizers see the fun that can be had and the good that can be done.
"It's still a lot of work for people to put it on, but I would definitely recommend it," Mohr said. "It's just a great environment for this kind of event."