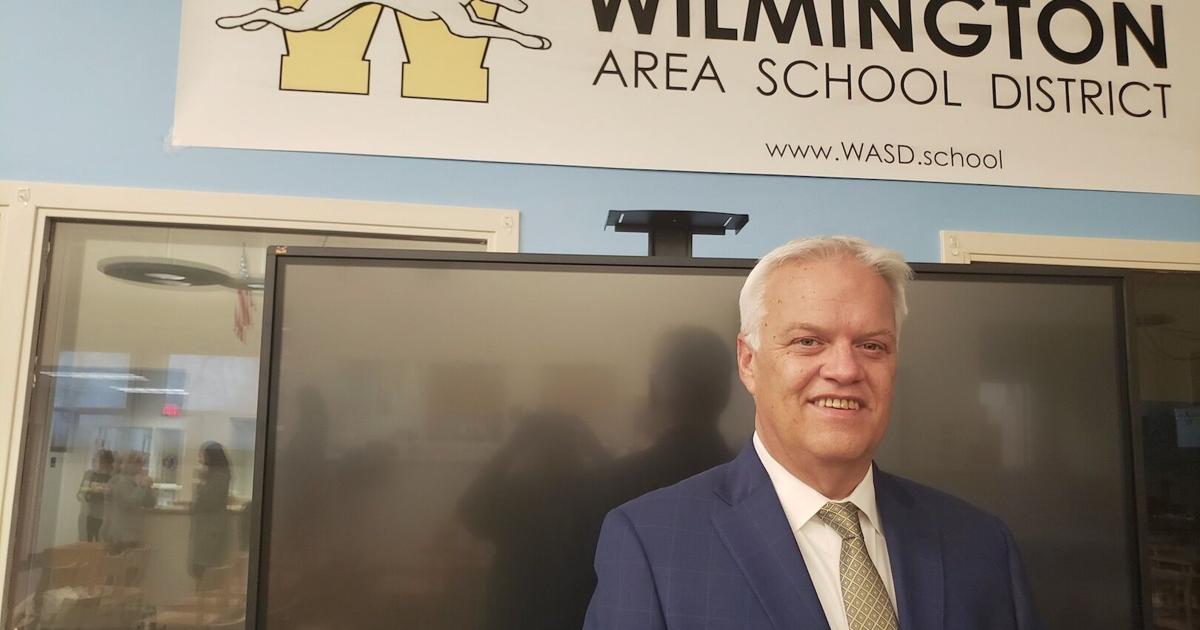 Shared Services to Benefit Wilmington Education | Local News
Low state test scores for students in the Wilmington Area School District were a major factor in the school board's choice to hire a new shared administrator.
Seeing the best results from the Pennsylvania School Rating System and the Keystone Examination and academic success in neighboring Neshannock Township School District, the Wilmington School Board made the bold decision to hire Dr. Terence P. Meehan , Superintendent of Neshannock, as Shared Acting Superintendent at Wilmington.
Scott Brush, a Wilmington high school teacher for 28 years, applauded the district for its decision at a special meeting Tuesday.
"The teachers at Neshannock speak extremely well of you," he told Meehan, who attended Tuesday's special board meeting.
Brush expressed concern about falling scores on Wilmington District's two key tests.
"What you did in Neshannock is really good, and we hope you bring it to Wilmington," he said. "We welcome you with open arms and welcome aboard."
Wilmington teachers and board members aren't the only ones applauding the decision to share a superintendent. Members of the Neshannock School Board are happy that shared services are taking place and they believe it could only happen with Meehan at the helm.
"My personal opinion is that Dr. Meehan is a phenomenal director," said Neshannock board member Michael Vatter. "This job wouldn't be for everyone, but he's a superior candidate. He's the right man for the job. Wilmington will definitely benefit from his experience and quality.
Neshannock stands to gain by saving half the costs of Meehan's post and sharing knowledge, services and expertise with Wilmington, with the two schools retaining their autonomy.
Meehan will immediately take office as acting superintendent in Wilmington, fulfilling the tenure of Dr. Jeffrey Matty, who is retiring. Matty took time off from the district, using his remaining compensated days off. His last official day is September 1, when Meehan will then assume the title of acting superintendent. He will serve in the position until June 30, 2023, during which time the school board will determine whether to continue shared service with Neshannock or seek to hire a new superintendent, according to an agreement reached by the two districts.
Meehan, under the agreement, will report monthly to both school districts on the challenges and successes he observes.
He will continue to receive his full salary and benefits from the Neshannock Township School District, per his contract there which also expires June 30, 2023.
The District of Wilmington will pay Neshannock 50% of Meehan's salary and benefits cost, or $53,164 for his months as a backup at Neshannock, and $107,824 for his subsequent work as acting superintendent.
Meehan must divide his time equally between the two districts.
The two districts will meet in April when a committee of at least three principals from each district with the president of each board to discuss sharing superintendent services, under the agreement.
If both districts agree to continue shared services after the 2023 school year, a multi-year agreement will be created. If they decide not to, the deal will expire.
About 20 people attended Monday's board meeting, and the few who spoke about the union commented positively on the idea.
"When I was told about this board meeting, I was thrilled," commented Wilmington School District parent Jeffrey Larson. "It's an absolutely brilliant decision."
He said he hopes the shared services will mean more work between the two school districts.
"The performance of the students at Neshannock School speaks for itself," he said.
Meehan stressed after the meeting that the decision is not a move toward merging school districts, nor does he support that idea.
"I want to see our resources (at Neshannock) invested in both schools," he said, "both school districts working together."
Meehan was appointed Superintendent of Neshannock in 2015 and had previously served as Assistant Superintendent of the New Castle Area School District.
Neshannock board member PJ Copple praised Meehan for his hard work and insight.
"We feel that Terry is a very valuable asset to our school district. His knowledge of the program and the way he manages the budget make him an ideal candidate," Copple said.
He noted that Neshannock District had been operating for several years without deficit spending. Meehan has "a solid understanding" of the SAT preps and courses students need, Copple said.
His leadership, especially through COVID as the situation was ever-changing, kept the district open for most of it and he built a cyber school to accommodate students, he continued.
"When our neighbors to the north were looking for a superintendent and contacted Terry to see if he would be willing to do both, it was 9-0 for us," Copple said.
"We know that, as good as he is, not only will he save money and take their program to higher levels, but we believe he will share services between the two districts. He will find ways to do it. We are similar in size and that almost makes sense.
Neshannock's board members met in executive session and were briefed on Wilmington's request. They took a straw vote and approved the idea. The board will formalize the agreement at its next regular meeting on April 11.
"It's exciting," Copple said. "It's happening more and more. It's getting harder and harder to find money, and if you can share services and a superintendent, why not?
Karen Houk, Board Member of Neshannock, said: "We are extremely proud of Dr Meehan. We listened to what he had to say about helping other school districts possibly improve their PSSA scores, and we know he's for education along the way. He's someone who works and works and works and works until a problem is solved," she said.
The board asked him a few questions, and he was able to answer them in a way that he presented himself as very capable of doing both jobs, Houk said.
"We are thrilled for him," Houk said. "It will save us a bit more. Neshannock doesn't get as much money from the state, so we're dependent on our local taxpayers."
She pointed out that the two districts will remain completely separate, which was a concern of both districts.
"Neshannock will always be Neshannock, and Wilmington will always be Wilmington," Houk said. "In a way, it's a sign of the times.
"I'm glad school districts can share the costs and benefit each other," Vatter said. "It's the wave of the future."